With the aviation industry reeling from increasing fuel costs, dipping profits and those pesky upcoming environmental regulations, airlines are scrambling to become more efficient, cut costs and increase fuel efficiency. Japan Airlines did their part to shed excess weight on their flights by shortening their blankets by a centimeter, and Northwest Airlines did it by removing all the spoons from their planes.
But true change must come from innovation and new thinking by aircraft manufacturers. This week, I visited the Paris Air Show at Le Bourget, to see firsthand what direction the industry is taking. The general sentiment of the show was summarized by Airbus in 10 foot letters on the side of their new Airbus A380 – "Greener. Cleaner. Quieter. Smarter."
The new Airbus A380 is the largest passenger aircraft in the world, and Airbus boasts that it is the first aircraft ever to achieve a fuel efficiency below 3 liters per passenger over 100 kilometers (a boast which loses some meaning if you take into consideration that all current airlines fly A380 configurations that cater to fewer passengers per flight and are rarely fully booked). The A380 also uses a new wing design and lighter composite materials to improve its performance. Airbus also claims a 50% smaller noise footprint than the 747-400 while carrying 40% more passengers.
Impressive claims. But as I look up at the A380 flying overhead in slow graceful circles, all of those energy saving statistics melt away and all I can think of is the full-sized, fully stocked bar in the plane's upper deck.
Not to be outdone by Airbus, Eurocopter are showing their own idea for a greener future. Their new concept helicopter, codenamed Bluecopter, has a "high-compression engine" that promises to reduce fuel consumption, CO2, NO and NO2 emmissions by 30-40%… That is if they can get it off the ground. It seems that calling it a helicopter is a bit of a stretch, as the bluecopter is currently nothing more than an off the shelf Mercedes-Benz V6 turbodiesel engine with a helicopter shaped box around it painted in blue and green. In fact, it is currently so heavy, it couldn't get off the ground even if you gave up on the fancy extras such as passengers or a pilot. Not that any of those facts stood in the way of Eurocopter generating a lot of green-buzz around this innovation.
Another recurring theme in the show was increased use of composite materials such as carbon fibers to make aircraft lighter. One notable example was the 4-seater Simba. With a hull built entirely from carbon fibers, Simba weighs less than 500 kg (I've ridden motorcycles heavier than that), but can still reach a cruising speed of 220 km/h, and pulled off impressive stunts in the sky above our heads.
After spending a few days looking at the latest and greatest being developed by some of the biggest companies on the planet, it is clear that the current direction is focused on optimizing, refining and improving as opposed to revolutionizing. But in an industry where it can take over a decade to bring a product to market (The A380 took 13 years to develop), is it fair to expect a revolution right now? Or will we have to wait another decade before seeing a true leap in technology? I'd like to believe that current market forces will accelerate the current progress and bring a revolution out of necessity.
But will this be enough to save the industry? 2009 marked the 100th year of the Paris Air Show, and it was quite a somber one, with fewer Champagne bottles uncorking to celebrate big deals, fewer new models and not enough innovation.
Looking at the big airlines, it is easy to draw parallels between the state of the aviation industry, and the stagnation in the American car industry. Perhaps what we need here is an outsider with a fresh point of view to shake the boat… to borrow an idea from Todd Dagres – Perhaps what the aviation industry needs is a Steve Jobs.
Like a Kid In a Toy Store
All cynicism and skepticism aside, the Paris Air Salon is the ultimate place for the kid-at-heart to check out the latest toys in action.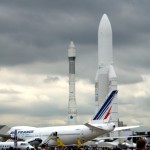 Where else in the world can you see a Eurofighter Typhoon pull off crazy stunts, walk a few meters under the shadow of two huge space rockets to flirt with an F-15 pilot, then turn your head back to the roar of a 50 year old Lockheed Super Constellation taxiing 5 meters from you, its giant wing over your head.
Even a grumpy treehugger like me can't help but melt and squeal with glee as a F/A-18 Super Hornet prepares for takeoff next to me, the hot air from its jets blasts me in the face like a thousand splendid suns… Burn all the fuel you want buddy, right now I'm an 8 year old with the shiniest toy.
Green Any Site
With Green Any Site, you can easily donate a portion of any online purchase to the environmental charity of your choice. It's free, there's nothing to install, and it takes just a quick click each time you buy something.
Here's how it works: Web retailers (think Amazon, Buy.com) pay other sites a percentage of each purchase for referrals. When you use GAS, all of that money goes to supporting green causes, instead of ending up in somebody else's pocket.
Visit http://www.greenanysite.com/ to get started.