While working on the Green Any Site facebook application, and digging around facebook, I noticed a curious little object in their code which wasn't there a few days ago.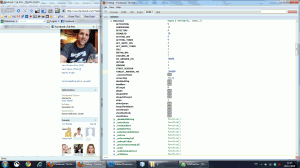 The object, which is simply called VideoChat, appears to have everything needed to introduce video chatting functionality.
What is even more interesting is that the object has several properties which refer to Skype, and clearly suggest being able to video chat with Skype users, or maybe even associate your Skype id with your facebook identity.
Is this the next move in Facebook's plan to corral all of our communications into facebook.com
UPDATE: Digging further into the code reveals it checks for plugin support using either ActiveX on Internet Explorer, or using the Skype SDK.
UPDATE 2: It seems that Facebook is currently bucket testing this feature, as it didn't appear everytime I loaded the page, but only once in a while.
You can see the code yourself on facebook's servers and it is also mirrored on Green Any Site.
Want to do something good for the planet every time you shop online? Check out Green Any Site.
Green Any Site
With Green Any Site, you can easily donate a portion of any online purchase to the environmental charity of your choice. It's free, there's nothing to install, and it takes just a quick click each time you buy something.
Here's how it works: Web retailers (think Amazon, Buy.com) pay other sites a percentage of each purchase for referrals. When you use GAS, all of that money goes to supporting green causes, instead of ending up in somebody else's pocket.
Visit http://www.greenanysite.com/ to get started.